How to reserve guides.
Overview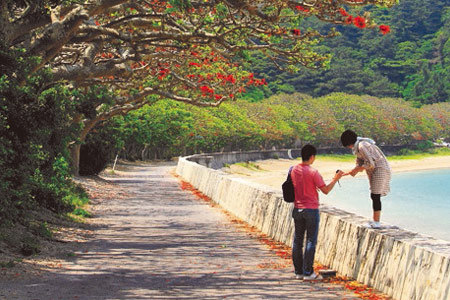 If you are interested in visiting Amami, don't hesitate to contact our tour guides! Initial discussion is free of charge.
When you are satisfied with the tour itinerary your chosen guide provides, reserve your guide via our mail form.
Your guide will confirm the reservation, and you will be asked for a deposit of 20%, payable through Paypal, to validate your reservation.
In case of cancellation, please contact your guide or AIN. Your deposit is non-refundable unless cancellation is due to your guide or to AIN. The remaining balance is payable in full at the beginning of your tour.
Flow charts
Interested in exploring Amami?
1 : Contact Us
Select a guide from the OUR GUIDES page and contact them to discuss activities and prices.

2 : Fix Itinerary
Work with your guide to create an itinerary.

3 : Reserve
Reserve your chosen guide.

4 : 1st Confirmation
Receive confirmation from the guide.

5 : Deposit
Deposit 20% of costs through Paypal.

6 : Final Confirmation
Receive the final confirmations from AIN.
*In case of cancelation, Contact Us again.

7 : Pay in Full at Tour, Enjoy Tour
Pay balance in full at the beginning of tour.